Products

Dynapro Premium Grease
Dynapro Premium Grease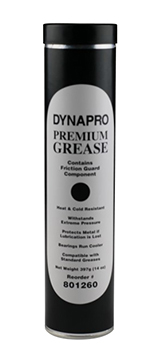 FG-240
14 ounce cartridge

Also available:
10 cartridges per case (FG-260-10)
20 cartridges per case (FG-260-20)
---
Dynapro Premium Grease is a long life, high temperature grease. Made from the finest raw materials available. This formulation represents the state of the art in soap thickened mineral oils. Possesses outstanding thermal stability and unique oxidation inhibitors. Effective at high temperatures where regular lubricants fail. Protects bearings against galling or seizing due to heavy loads at high temperatures, and protects bearings against corrosion. Formulated to meet or exceed ASTM/NLGI bearing spec., class GGC. N.L, G, I #2.
Temperature range is 15°F to 425°F. Melting is point 525°F.
Resists breakdown under the toughest conditions. Contains antirust, extreme pressure, anti-wear and oxidation inhibitor additives.
---
USES: Heavy industrial equipment operating under adverse conditions like high and low temperatures, heavy continuous duty and shock loads. Can also be used as a general purpose and automotive grease on disc and drum brake wheel bearings, electric motor bearings, sealed for life motor bearings, kiln car bearings as well as all chassis components.