Safety Solvent Cleaner II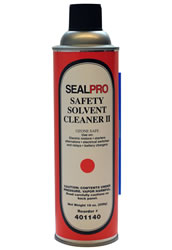 AE-112
Net Wt. 19 ounce can / 12 per case
Also available in 1 Gallon Non-Aerosol Can (AE-112-G) / 4 per case
---
SealPro Safety Solvent Cleaner II is a non-flammable safety solvent that can be used in shop, auto and marine applications. It is non-corrosive, non-staining, leaves no residue, is nonconductive, and dries rapidly. Grease, oil and dirt quickly dissolve and flush away. This product may affect certain plastics or printed surfaces. Test on remote area for compatibility.
SealPro Safety Solvent Cleaner II is a combination of nonflammable quality solvents which instantly dissolves grease, oil and conductive solids and is the ideal replacement for carbon tetrachloride.
Also, an outstanding degreaser and safety solvent for preparing the application surface before applying SealPro epoxies or urethanes; for general cleaning.