Rugged Wypes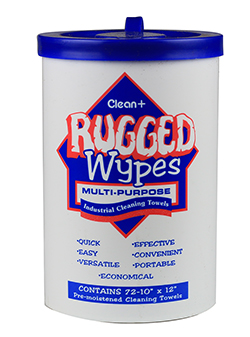 RU-205 Single Tub
RU-205-6 Case of 6 Tubs

---
Rough Touch Rugged Wypes are a unique patent-pending waterless hand cleaning system combining both a high quality liquid hand cleaner formula, and a heavy duty, non-scratching, abrasive hand cleaning towel. This unique, patented towel construction is comprised of a polymeric nonwoven soft layer, to which thousands of polymeric deep cleaning scrubbers are permanently bonded to one side of the surface. Then, a special micro-perforation pattern is added to hold effective, yet mild contaminate-dissolving, liquid agents and soil lifters that dry quickly after use. The result is hands that are clean and protected, with a pleasant fragrance and residue free.
10"x12" — Packaged 72 towels to a tub.
Many workers wipe their hands up to 100 times day without actually cleaning their hands. Therefore, Rough Tough "scrubs" are essential for mechanics, plumbers, painters, printers, silk screeners, machinists, glaziers, industrial and municipal workers, maintenance people, assembly line personnel, construction workers and service industry technicians.