Pro-Hands Hand Cleaner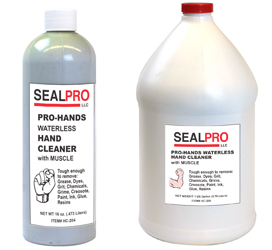 HC-204 16 oz. Available in cases of 12 (HC-204-12)
HC-206 1 Gallon w/ Pump Available in cases of 6 (HC-206-6)

---
Use to remove greases, grit grime, dyes, inks, glues, resins and most chemicals.
Pro-Hands is a waterless, stable, rugged hand cleaner that contains homogenized pumice. It gently cleans soiled hands. It is formulated from cleansers to get out dirt and grime and lanolin to condition skin, keep hand soft and prevent dryness. Leaves hands clean, greaseless and with a pleasant aroma.
The squeeze bottle with a convenient cut off flap makes Pro-Hands more efficient than cleaners packaged in tins. Gallon bottles with pump dispensers are available for volume users.