Red Rubber Gasket Material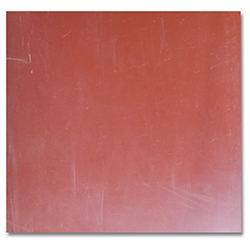 Style 700 Red Rubber Gasket
RR-xxx
---
Style 700-R is quality red rubber sheet made of highly filled non-oil resistant rubber compounds designed to resist flow under compression and is generally used for hot and cold water, low pressure steam, ammonia, air, gas, aqueous solutions and mild caustic soda to 250° F. 700-R has a smooth finish with no visible impressions, usually press or paper finish.
---
Temperature: 170°F
Tensile Strength: 400 PSI Min.
Meets: ASTM-D 1330, Grade 11
Finish: 700-R/Smooth 705-FR/Fabric
Standard Width: 36"
Thickness: 1/16", 1/8", 1/4"