RTV Silicone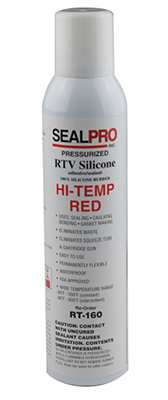 RT-XXX
Net Wt. 8 ounce tube
Available in:
Red RT-160 or 12 tubes per case (RT-160-12)
White RT-162 or 12 tubes per case (RT-162-12)
Clear RT-164 or 12 tubes per case (RT-164-12)
Black RT-165 or 12 tubes per case (RT-165-12)

---
This product is a multi-purpose, single component adhesive sealant made of 100% silicone rubber which quickly adheres to most surfaces. It cures in 24 hours to provide a tough, resilient silicone rubber to handle hundreds of applications. RTV Silicone can be used for gasketing, sealing, bonding, insulating, caulking, encapsulating and coating. This flexible waterproof material resists shrinking, cracking, weather, ozone, chemicals, moisture, vibration and extreme temperatures ranging from -85°F to 450°F.
Hi Temp Red to 500°F, continuous to 600°F intermittent exposure. RTV Silicone will easily bond dissimilar materials. Provides excellent adhesion to clean metal, glass, and most types of wood, ceramic, porcelain, painted and many plastic surfaces.
---
RTV Silicone is USDA, UL and NSF approved. Meets F M Reg., No 21 CFR 177-2600 and MIL-A-46106 Specs, the equivalent of Dow Corning 732 & 736, GM, Ford and Chrysler specs. Patented pressure containers.