PTFE Tape (fluoropolymer)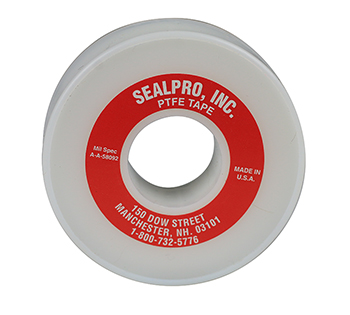 TT-XXX
Premium Grade High Density Roll

1/4" TT-150 (single roll) or TT-150-12 (box of 12)
1/2" TT-152 (single roll) or TT-152-12 (box of 12)
3/4" TT-154 (single roll) or TT-154-12 (box of 12)
1" TT-156 (single roll) or TT-156-12 (box of 12)
---
PTFE Tape is made of soft, pliable, pure, high-density fluoropolymer, which results in more PTFE per inch of length. As such, it is the highest quality PTFE Tape and is easy to handle and apply.
PTFE Tape is a universal thread sealant which can be used on all types of metal or plastic pipe threaded connections. Withstands pressure up to 10,000 psi (703kg/cm) with temperatures of -400°F to +500°F (-240°C to +260°C).
Not flimsy, like economy tape
Non-hardening
Remains flexible
Lubricates for easy assembly
More Teflon per wrap
Meets mil spec T-4773
Applications include: All threaded connections, servicing chemicals, acids, alkalis, caustics, corrosives, fuels, gases, refrigerants and solvents.
---
Also available in gas line colors
TT-159YL –Yellow (1/2" x 260")

Economy Grade
TT-102 (1/2" x 520")
TT-104 (3/4" x 520")

Download SDS