Pipe Seal Leak Repair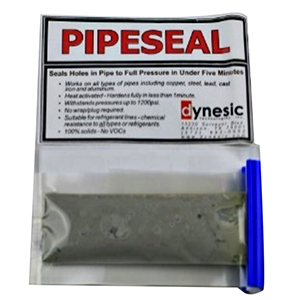 PN-301

---
Works on all types of pipes including copper, steel, lead, cast iron and aluminum.
Heat activated – Hardens fully in less than 1 minute.
Withstands pressures up to 1200 psi.
No wrapping or plugging required.
Ideal for refrigerant lines.
Extreme chemical resistance.
100% solids – NO VOCS
PIPESEAL is a unique, 100% solids, multi-component epoxy designed to quickly and permanently patch, seal and repair cracks, holes and leaks in all types of pipe. PIPESEAL is ideal for commercial, industrial and residential applications. PIPESEAL is supplied in a burst-seal bag containing pre-measured amounts of resin and hardener. Once the resin and hardener are mixed, PIPESEAL is ready to apply. PIPESEAL is heat activated and will cure within a minute once it is heated with a heat gun. The sealed pipe will withstand high pressure immediately after PIPESEAL cures.

Download SDS