Pipe Repair System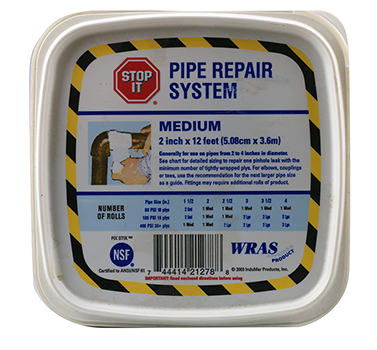 PR-204 2"x4' (Pack of 6 PR-204-6)
PR-212 2"x12' (Pack of 6 PR-212-6)
PR-284 4"x12' (Pack of 6 PR-284-6)
---
The Stop It® Pipe Repair System is a quick in-field solution for most leak repairs, pipe reinforcements and corrosion control situations. The FIX STIX™ epoxy is NSF certified and STOP IT® is WRAS approved for use on potable water lines.
This product works on any metal or plastic pipe including steel, copper, aluminum, galvanized, black iron, PVC, CPVC, Fiberglass, polyethylene, polypropylene and PVDF. Recommended for pressure to 400 psi.
Temperature continuous from -20°F to 250°F. Intermittent from 250° F to 500°F. Storage temperature from 40°F to 83°F.

Download SDS