O-Ring Kits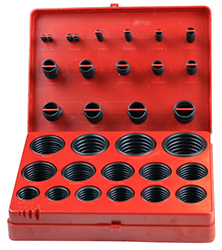 O-Ring Kits offer a compact, easy to reference solution for your o-ring needs. Kits are offered in a "standard" kit which covers common sizes and cross sections or larger, cross section specific kits. Our 3-Kit System offers a unique, easy to find o-ring system with over 86 different sizes from 1/8" ID to 1-15/16" ID covering standard cross sections of 1/16" to 1/8".
The 3-Kit System has over 1300 o-rings in three easy to store cases, each with its own cross section.
Kits are available in Buna and Viton. Other materials available on request.
---
Buna

OR-302 Standard O-Ring Kit
OR-306 1/16" O-Ring Kit
OR-304 3/32" O-Ring Kit
OR-308 1/8" O-Ring Kit
OR-303 System 3 O-Ring Kit

Viton

OR-310 Standard O-Ring Kit Viton
OR-314 1/16" O-ring Kit
OR-312 3/32" O-Ring Kit
OR-316 1/8" O-Ring Kit
OR-311 System 3 O-Ring Kit