Seal-Once™ Multi Surface Industrial Concentrate Waterproofer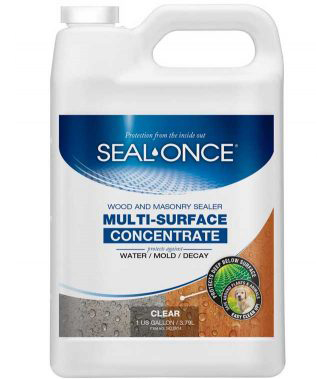 SE-101 – One US Gallon/3.79L | Clear
SE-505 – Five US Gallons/18.92L | Clear
---
Seal-Once™ Advanced Multi-Surface Waterproofer is a concentrated, waterbased formula designed for waterproofing wood, composite wood, concrete and masonry. Eco-friendly Seal-Once is designed to be diluted with clean water at a 1:1 ratio for easy application.
Allow pressure-treated wood to age up to 3 to 6 months before applying Seal-Once. Not recommended for basement floors and walls subject to hydrostatic pressure (active leaks or continually damp areas).
For best results, all surfaces should be cleaned before sealing for best penetration and performance of a coating. To remove algae, grime, mildew, effloresence etc., we recommend Seal-Once™ All Wood Cleaner for wood and Seal-Once™ Concrete Masonry Cleaner for concrete. Pressure washing is recommended.
Non-toxic, Zero VOC's, Safe for the Environment
Long-Lasting, Deep Penetrating Bond Protects Against Mold and Mildew Stains
Waterproofs, Reduces Mold and Mildew Stains
Does Not Protect Against Airborne Black Mold
Outperforms All Other Sealers and Stains
UV Stable
Water-Based, Odorless, Non-Flammable, Non-Combustible
Will Not Burn Skin
Paintable, Stainable, Breathable
Will Not Harm Plants, Animals or Humans
Clear Formula Will Not Discolor Surface
Helps Prevent Wood From Cracking, Splitting and Warping
Reduces Corrosion, Spalling and Cracks Caused by Moisture
Helps Protect Against De-icing Salts and Pool Chemicals
Semi-Transparent Tints Available
Non-Film Forming
Easy Soap & Water Clean Up
---
USES: Decks, Fences, Patios, Driveways, Brick, Green Concrete, Stucco, Limestone, Tile (unglazed), Slate and Gravestones, Log Homes, Cedar Shakes, Wood Siding, Clay Tile Roofs, Furniture, Planters and Raised Garden Beds.

Download SDS