PANSEAL Paste Grade Trowelable Surface Repair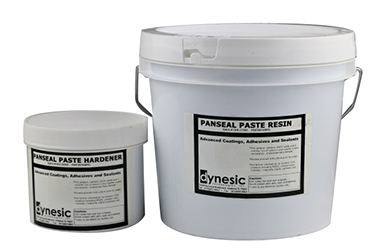 PN-250
---
PANSEAL Paste Grade is a unique, multi-component epoxy designed to quickly seal and repair leaking and corroded surfaces, forming a new, non-rusting and permanently restored surface. PANSEAL Paste Grade is ideal for commercial and industrial applications. PANSEAL Paste Grade is supplied in a gallon container of resin and a pint of hardener. Once the pint of hardener is emptied into the gallon of resin, the product can be mixed thoroughly and applied with a trowel, PANSEAL is used worldwide restoring cooling towers in the HVAC industry and is widely used in many other industries including agriculture, hospitals, marine, oil and gas and waste management.
Immediately seals leaks, cracks and even majorly damaged surface areas.
Minimal surface preparation required.
Works on metal, fiberglass, stainless steel, concrete and wood surfaces.
Easy to apply with trowel.
Ideal for vertical repairs and ceiling work
100% solids and entirely free of solvents and volatile organic compounds.

Download SDS

Download Application Guide