Electrical Contact Cleaner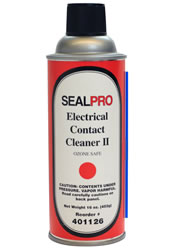 AE-116
Net Wt. 16 ounce can / 12 per case
---
SEALPRO Electrical Contact Cleaner II affords instant solvent cleaning action that quickly removes grease, dust, dirt and oxidation found in electrical and electronic equipment. It restores and maintains precision and original efficiency of instruments and equipment. Penetrates pores of surface and leaves a fine microscopic film for prolonged protection against corrosion.
---
USES: Rheostats, Transmitters, Switches, Microphones, Coils, Condensers, Receivers, Tasters, Speakers, Transistors, Circuit Breakers, Controls, Relays, Timers, Signals, Meters, Panel Boards and More.
*May harm certain plastics and elastomers. Test on nonessential similar material prior to application.