Heavy Duty Anti-Rust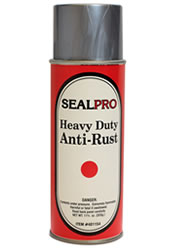 AE-154
Net Wt. 14 ounce can / 12 per case
---
SealPro Heavy Duty Anti-Rust is an effective rust preventative even under the most severe conditions. It is a cut back type product that after evaporation of the solvent, leaves a durable film that adheres firmly to metal surfaces, is dry to the touch, does not flake, is self-healing when broken, and resists flow up to 175°F (79.4°C).
---
USES:
Industry: Protects tools, dies, machines. Excellent for machinery or parts stored out of doors or for protection of parts from corrosion during shipment.
Farm: Protects all equipment subject to humidity, salt and other corrosive elements. Will protect outside steel structures.
Marine: Protects shafts, boat trailers – all metal surfaces exposed to air, excessive humidity or salt water atmosphere.