Sealpro 4 Penetrating Oil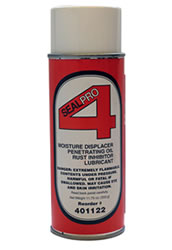 AE-114
Net Wt. 11.75 ounce can / 12 per case
---
PENETRATES: Frees up nuts and bolts or any part frozen due to rust and corrosion.
DISPLACES MOISTURE: Starts wet engines. Displaces moisture in every part of an ignition system. Eliminates shorting caused by moisture when spayed on spark plugs, wires, battery terminals and cable coils, inside of distributors, starters, generators and electrical motors.
LUBRICATES: Superior and long lasting lubricant for metal. Reduces wear, stops squeaks and deposits a microfilm on all moving parts. Cleans and degreases as it lubricates and protects.
RUST PROOFS: SEALPRO 4 deposits a protective film which will inhibit corrosion caused by moisture, salt water, acids, caustic cleaners and other chemicals. Harmless to automotive paints, rubbers and plastics. Acts as a moisture shield for pumps and other industrial equipment.
---
USES: Automotive, aircraft, shipboard, plant maintenance, truck/trailer fleets, guns, sports equipment, electrical, electronics/relays, locks and latches.

Download SDS