Spray Cutting Oil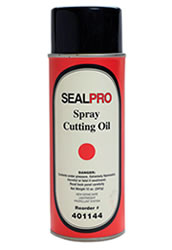 AE-118
Net Wt. 12 ounce can / 12 per case
---
SealPro's Cutting Oil offers increased tool life with the additional advantage of applying the product directly when it is needed.
SealPro Spray Cutting Oil is specially formulated to increase tool life when applied to metals and alloys. Excellent for all pipe threading applications for better threads in shorter time, without distortion. Suitable for hard stainless steels, aluminum, brass and copper.
---
Technical Specifications:
Appearance — brown liquid
Viscosity at 100°F — 190SUS
Sulphur content % by weight — 0.54
Chlorine content % by weight — 0.66
Fat content % by weight — 2.7
API Gravity at 60° — 25.9
Weight per gallon — 7.49
---
USES: Drilling, tapping, reaming, thread cutting, milling, grinding, boring, sawing and turning. For large jobs choose SealPro's cutting oils, available in bulk, as light or dark thread cutting oil.