PTFE Gel Penetrating Lubricant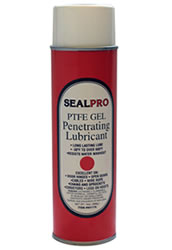 AE-113
Net Wt. 13 ounce can
---
PTFE Gel Penetrating Lubricant is a transparent, high pressure lubricant with high adhesive strength. A unique combination of natural and synthetic lubricating agents, coupled with the high molecular weight polymer PTFE makes theis product one of the best available for general lubricating purposes.
High Adhesive Strength
High Dropping (tint withstands high temperature without melting)
Maximum Penetration
Rapid, Grease like Setup
Resists Water Washout
Prevents Rust & Corrosion
Resists Throw Out and Squeeze out from pressure, vibration or impact
---
USES: Door Hinges, Open gears, Wire Ropes, Chains and Sprockets, Conveyors, Sliding Metal Assemblies, Manifold Heat Valves, Marine Applications, Heavy Equipment, Turnbuckle and Threads, Winches and Hitches.

Download SDS