Industrial Silicone Spray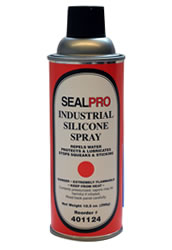 AE-124
Net Wt. 18 ounce can / 12 per case
---
SealPro Industrial Grade Silicone is a clear lubricant and preservative. This product aids in preservation, waterproofing, prevention of sticking and squeaks, stops rust and reduces wear of moving parts.
SealPro Industrial Grade Silicone is specially formulated to leave a slippery continuous film that facilitates a wide range of applications. This long lasting coating is invaluable as a lubricant where petroleum oils cannot be used. As with any aerosol product, care should be taken to ensure compatibility with the item being sprayed by testing a remote and inconspicuous area prior to application.
---
USES: Lubricant for coating conveyors, chutes, guides, fabric layout tables, door hinges, metal locks, windows and glue pots. Release agent for heat sealing applications. Prolongs the life of cutting plates and needles. Lubricates and renews rubber. Lubricates plastic gears, bearings, and slides. Stops squeaks and waterproofs.