Red Grease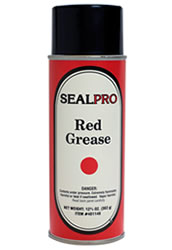 AE-147
Net Wt. 12.75 ounce can / 12 per case
---
SealPro's Red Grease is a superior quality multi-purpose grease that will maintain a constant viscosity over a wide range of temperatures (0°F to 350°) and is a 100% waterproof. The reversibility (ability to return to original consistency after exposure to heat) allows this aluminum grease to not break down, harden, separate, or emulsify when subjected to excesses of heat and pressure.
Molecular structure of this aluminum complex grease is designed to resist oxidation during periods of no load. It prevents corrosion and is not affected by acids, alkalis or salt. Has outstanding lubricity.
---
USES: Industrial bearings, pillow blocks, U joints, motor shafts, truck and tractor fifth wheels, hinges, agricultural hitches, heavy equipment bearing surfaces, cables, striker plates, gears, linkage, pulleys, etc.