Boiler Water Level Gauges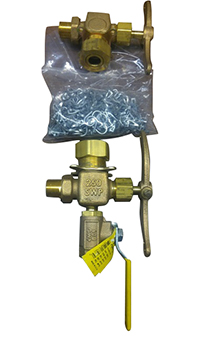 CHAIN LEVEL WATER GAUGES
GV-845
Lever on standard 12 foot chain allows operator to open and close valves that would be beyond reach. Valve stems operate on quarter turns. Rated 250 psi @ 400° F and 500 psi at 500° F For ½" pipe use 5/8" OD glass x 12" long For 3/4" pipe use 3/4" OD glass x 16" long Note: Service ratings are subject to pressure/temperature ratings of gauge glass. (Items are without glass and rods)
Use on large boilers with inconvenient columns
Automatic and manual models
Furnished with 12 feet of chain
---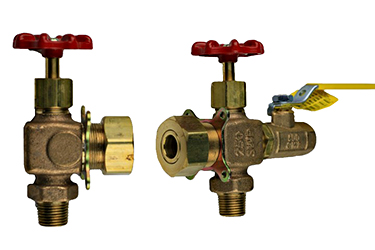 SQUARE PATTERN BRONZE WATER GAUGE
GV-810 – Standard
GV-820 – Heavy Duty
(Above items are sold without glass and rods) Available with ½" (ASTM B-16 Brass Bar stock) or ¾" (B-584 cast brass) NPT male pipe connections. EPDM gauge glass gaskets standard. Other packings available.
Standard ¼" needle chain valve in lower arm.
Pet cock or Apollo ball valve chain on request (Shown with optional ball valve)
Ball checks and polished standard finish on some items.
Rated 200 psi @ 400° F, 400 psi @100° F
Note: Service ratings are subject to pressure/temperature ratings of gauge glass.
---

CHAIN OPERATED GAUGE COCK
GVP-862
Chain Operated Lever Type For use on water columns beyond reach from floor.
Spring loaded lever
Teflon seal
Optional 6' chain
Rated to 250 psi
---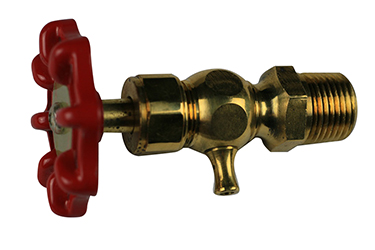 COMPRESSION GAUGE COCK
GVP-855
For draining expansion tanks and other liquid storage vessels.
Rated up to 125 psi
Soft metal seat/stuffing box
Stainless steel ball seat stuffing box