PANSEAL Drain Pan Repair Cartridge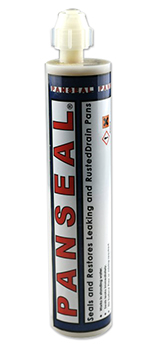 PN-201 – 9 ounce cartridge
---
PANSEAL is a unique, multi-component epoxy designed to quickly seal and repair leaking and corroded surfaces, forming a new, non-rusting and permanently restored surface. Seals leaks in drain pans immediately and permanently. Can be brushed, rolled or trowelled. Self-leveling, sets up in standing water, works on any surface. PANSEAL is self-leveling and has the viscosity of honey. It is safe to apply and no mixing is required because it is mixed within the mixing nozzle as pressure is applied with a caulk gun. PANSEAL Cartridges cover 6 square feet at 15 mils. (recommended minimal thickness).
Seals leaks immediately.
No system down time.
Works in standing water.
Self-levelling.
No surface preparation.
Ideal for repairs or preventative maintenance.
Works on metal, fiberglass, stainless steel, concrete, wood and plastic surfaces.
100% solids and entirely free of solvents and volatile organic compounds.

Download SDS