TFE Valve Stem Packing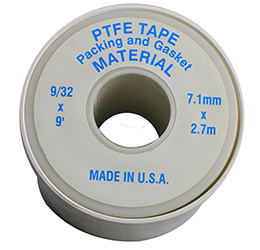 VS-332 - 3/32" x 50' Spool
VS-532 - 5/32" x 25' Spool
VS-732 - 7/32" x 15' Spool
VS-932 - 9/32" x 9' Spool
---
SealPro PTFE Valve Stem Packing is constructed of 100% PTFE core with a spiral covering of PTFE Tape. This pliability allows SealPro PTFE Valve Stem Packing to conform to worn valve stems and stuffing braces and yet resist extrusion. When the TFE Valve Stem packing is would around a valve stem, pushed into the stuffing box and compressed by tightening the gland nut. It is compacted into a high density packing. Once installed, a slight turn on the gland nut is all the maintenance that is usually required.
PTFE Valve Stem Packing is unaffected by all common chemicals, will not contaminate product flow, never hardens or adheres, and is completely inert. Eliminates the need for many different kinds of packing. Seals all liquids and gases from -450°F to 550°F.
Use in process lines in food and beverage operations, in chemical plants, refineries, paper mills and power plants.