Sealpro PTFE Gasket Rope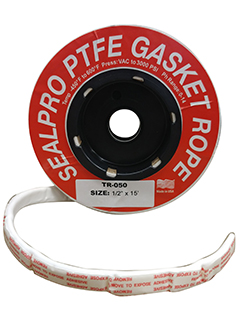 TR-125 - 1/8" x 100' Roll
TR-187 - 3/16" x 75' Roll
TR-025 - 1/4" x 50' Roll
TR-038 - 3/8" x 25' Roll
TR-050 - 1/2" x 15' Roll
TR-055 - 5/8" x 15' Roll
TR-075 - 3/4" x 15' Roll
TR-001 - 1" – 15' Roll
---
PTFE expanded Gasket Rope is a form of gasketing material. It is soft "marshmellowy" like cord that compresses to a thin, wide ribbon under pressure. It conforms easily to irregular flange surfaces, making discarding or re-machining of damaged flanges unnecessary. The smallest possible area is exposed to liquids and gases. You can bolt up once and not have to retorque later. A thin strip of adhesive has been applied to the cord to hold it in place on a vertical surface. Since it is highly compressive, only light flange bolt pressure is required to seal. It is useful on plastic, glass and ceramic vessels. Pipe flanges part freely and surfaces need no scraping when the gasket is removed. No age deterioration. Resistant to all common chemicals and non-contaminating. Will withstand pressure to 3000 psi on both smooth and phonograph – finished steel flanges. Particularly useful for low pressure seals. Temperature limits -450°F to 600°F pH range 0-14.
Use with seals, heat exchangers, pump or compressor housing flanges, steam damaged flanges, manways and large diameter flanges, glass joints, concrete lids, fume ducts, fiberglass reinforced, plastic vessels, valve stems, bonnet gaskets, hydraulic systems and gear box gaskets.
---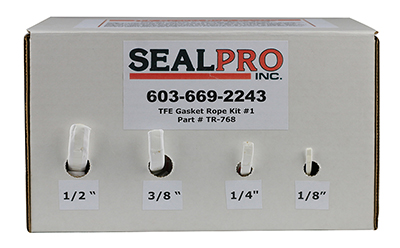 PTFE Gasket Rope Kit #1
TR-768
Contains one spool of 1/8", 1/4", 3/8" and 1/2" in an easy to dispense and easy to store package.