Dur-A-Gard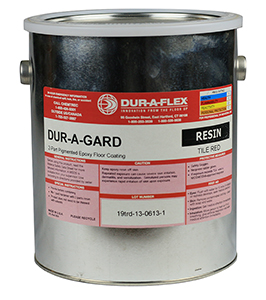 DG-xxx

---
Dur-A-Gard is an all-purpose, colored, two component, 100% solid epoxy system that is rolled out as a coating to provide a smooth glossy and easily cleaned surface which is extremely durable. It resists abrasion, and penetration of moisture, oil, dirt, and a number of chemicals. Dur-A-Gard contains no solvents and is almost odorless during application. It is available in ten colors (red, white, green, gray, light gray, yellow, blue, light blue, tile red and tan).
The high gloss, tile-like finish is stain resistant and unaffected by oil, gasoline, grease, strong detergents, salt and most other substances commonly found in industrial environments. Used in boiler rooms, mechanical rooms, warehouses, machine shops, kitchens, clean rooms, laundries, hospitals, basements, garages and other areas where a very tough floor is needed.
Dur-A-Gard can be installed over almost any sound substrate included, concrete, steel, wood, fiberglass, clay tile, stone and terrazzo. It sets up in 6 to 8 hours and can be re-coated if desired for a thicker coating.
Thickness of Coating Applied
(1000 mils=1 inch)
Coverage per US Gallon
100% Solids System
20 Mils
80
Sq. Ft./gal
1/64"
16 Mils
102
Sq. Ft./gal
10 Mils
160
Sq. Ft./gal
8 Mils
200
Sq. Ft./gal

Download Hardeners SDS