Ameron Amerlock 400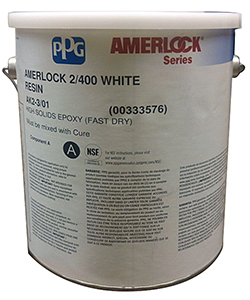 AM-xxx
---
Amerlock 400 is a high-solids, two part epoxy paint that is unsurpassed in performance in areas where complete penetration is difficult or impossible. It is an extremely versatile and durable maintenance coating. Amerlock 400 is available in a variety of colors including aluminum and therefore does not require a topcoat. For extended weatherability or special uses, a topcoat may be desired. Can be applied over rust and on damp surfaces.
Amerlock 400's low solvent level reduces the chance for film pinholing and solvent entrapment at the substrate/coating interface. Amerlock 400 is used in places where sand blasting is impractical or impossible. As a maintenance coating, Amerlock 400 protects steel structures in industrial facilities, bridges, tank exteriors, marine weathering offshore oil tanks, piping, roofs, water towers and other exposures. Amerlock 400 has good chemical resistance to splash and spillage, fumes and immersion in neutral, fresh and salt water.
Coverage: 250 sq. ft. @ 5 wet ml.

Download White Resin SDS

Download Hardener SDS

Download Resin SDS