Polyval Moisture Cured Coatings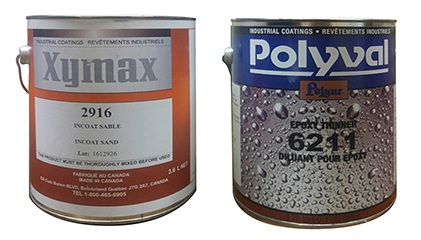 PV-xxx
---
Polyval coatings are a revolutionary, high performance, single component, moisture cured urethane with a high gloss finish. They have excellent durability over concrete floors, steel, wood and may be applied over damp surfaces. This state of the art technology provides tenacious epoxy like adhesion to concrete. Suitable for a variety of substrates, including tightly adhered rust, galvanized steel, weathering steel, aluminum, fiberglass, wood and zinc rich primers without the limitations that epoxies would encounter during application and for years to follow.
No humidity restrictions
No dew point restrictions
No induction time
Does not become brittle with age
Quick drying times in cold temperatures
Can cure down to 20° F
Water immersion 20 – 30 minutes
Surface tolerant
Minimum 10° surface temperature
Cannot amine blush
Cure in one hour or less with AX-70 accelerator
Polyval coatings can be applied over tightly adhered coatings and require minimal surface preparations on most substrates. Most applications require two coats.
Polyur Concrete coating has been specially formulated to be 3 times more resistant than enamels or ordinary oil based polyurethanes for concrete. Polyur bonds directly to the concrete without a primer forming an ultra-resistant coating. This coating is virtually abrasion-proof and will not flake, crack or chip. Highly resistant to industrial chemicals, oils, calcium, gasoline and anti-freeze. Available in many colors including: Red, Grey, Beige and Clear.

Download SDS

Download Thinner SDS