PANSEAL Cooling Tower Sealant & Coating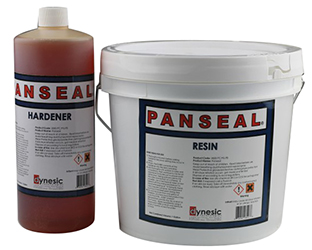 PN-200

---
PANSEAL is a unique, 100% solids, multi-component epoxy designed to quickly seal and repair leaking and corroded surfaces, forming a new, non-rusting and permanently restored surface. PANSEAL is used worldwide in the HVAC industry to coat, repair and protect cooling towers, chillers and walk in refrigerator rooms. PANSEAL is ideal for commercial and industrial applications (covering 160 square feet at 10 mils. thickness). PANSEAL is supplied in a gallon container of resin and a pint of hardener. Once the pint of hardener is emptied into the gallon of resin, PANSEAL can be mixed and applied with a brush, roller or spray gun (56:1 airless or higher).
Seals leaks immediately.
Minimal system down time.
Easy brush/roller/spray application.
100% solids and entirely free of solvents and volatile organic compounds.
Ideal for refrigerant lines.
Works on metal, fiberglass, stainless steel, concrete and wood surfaces.
Bonds chemically and mechanically to the substrate.
Excellent adhesion strength – 2,750 psi (pull-off adhesion test ASTM D 4541).

Download SDS